ESA National Economic Panel Polls
---
Budget 2023
Economists award Chalmers top marks for budget, but less for fighting inflation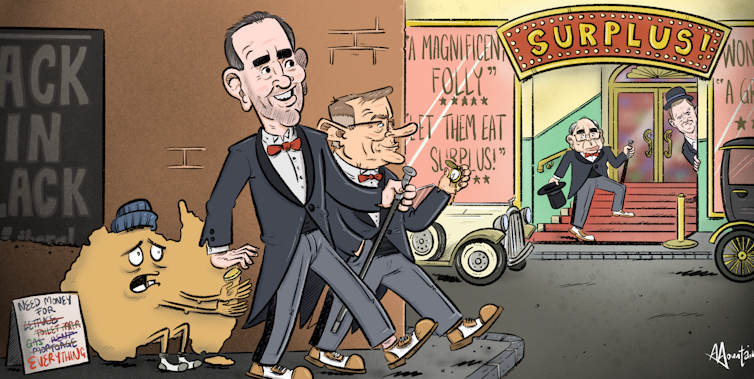 Peter Martin, Crawford School of Public Policy, Australian National University
Asked to grade Jim Chalmers' second budget on his own criteria of delivering "relief, repair and restraint", most of the 57 leading economists surveyed by the Economic Society of Australia and The Conversation give it top marks.
On a grading scale of A to F, 37 of the 57 economists – almost two-thirds – gave the budget an A or a B.
The proportion giving the budget top marks is far higher than for the COVID-era budgets of his Liberal predecessor, Josh Frydenberg, which attracted top marks from 41% and 37% of the experts surveyed.
The economists chosen to take part in the survey have been recognised by their peers as Australia's leaders in fields including macroeconomics, economic modelling, housing and budget policy.
Among those surveyed are a former head of the Department of Finance, a former member of the Reserve Bank board, and former Treasury, International Monetary Fund and Organisation for Economic Cooperation and Development officials.
Only one of the 57 surveyed gave the budget the lowest possible mark of F, and only three awarded it an E.
Ten of the experts qualified their approval by saying the budget should have done more to help vulnerable Australians suffering from higher rents and energy prices, including – but not limited to – Australians on JobSeeker.
Melinda Cilento, chief executive of the Committee for Economic Development of Australia, said while the increases in payments and support were "a good start", they didn't go far enough.
Consultant Nicki Hutley said even the promise of a staged increase in JobSeeker would have been better than "the miserly increase given".
---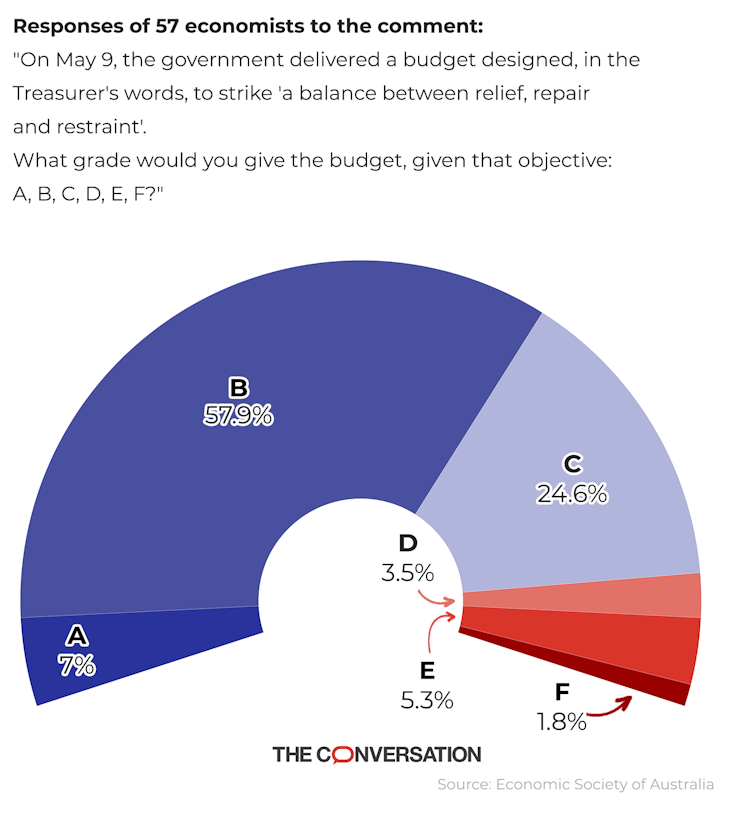 ---
Few of those surveyed said they would have preferred a tougher budget. Some, including economist Saul Eslake, warned the economic growth forecasts were so weak (1.5% for 2023-24) that a budget that took money out of the economy might have increased the risk of a recession.
The budget saved 82% of the revenue upgrades that had come from better-than-expected jobs and commodity price growth. Economist Rana Roy said if the budget had tried to save 100% of the revisions or more, it could well have triggered a recession or the first signs of it, and a reversal of the measures.
"A tough policy that is unsustainable is not actually tough," he said, referring to the fate of the measures introduced by Treasurer Joe Hockey in the Abbott government's first budget in 2014, many of which were abandoned or modified.
Other criticisms of the budget were that it failed to wind back the high-end Stage 3 tax cuts due mid next year (seven panellists' criticised); that it was less generous to wage earners than those on benefits (two panellists) and that it offered little to address climate change (four panellists).
Former Paris-based OECD director Adrian Blundell-Wignall said the budget was "short on policies to prevent climate change and long on policies to help people deal with it". Some of the profits that had made the budget strong came from exporting fossil fuels, the emissions of which are not counted in Australia's totals.
Ken Clements of the University of Western Australia said the entire budget process needed to change. Decisions about defence, aged care, resource taxation and hundreds of other issues were all announced at once. A staggered approach might lead to better decisions and a better-performing economy.
Disagreement on inflation
The economists were less generous in their assessment of the budget as a tool to fight inflation, with fewer than half (46%) awarding the budget an A or a B on its ability to keep inflationary pressures in check.
More than 10% gave the budget the lowest possible marks of an E or F.
Four of the economists flatly rejected the treasurer's assertion that greater subsidies for rents, energy, prescriptions and doctors visits would dent inflation.
---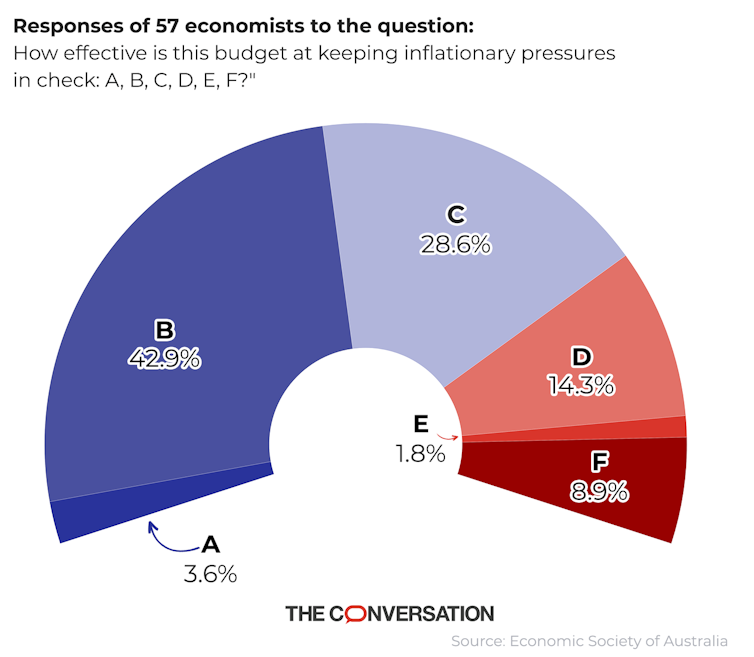 ---
Blundell-Wignal said putting cash into the hands of households had been the main cause of the surge in inflation worldwide.
James Morley of The University of Sydney said while spending to reduce power bills might make one or two quarters of the consumer price index look better, it would give consumers more money to spend spend and push up other prices.
Richard Holden said anyone who didn't think growth in spending of 0.9% of GDP was inflationary was "off their rocker". It was enough to make the Reserve Bank push up interest rates by 0.25 percentage points more than it would have.
The Grattan Institute's Danielle Wood countered that the spending was likely to boost inflation by just 0.1%.
The budget has inflation falling from 7% to 6% by the middle of this year, and to 3.25% by the middle of next year.
Leonora Risse and Flavio Menezes said debate about whether the cost of living relief would slow the decline in inflation was misguided.
"Electricity rebates and JobSeeker increases are inflationary in the same way as wage increases," Menezes said. "Yet no one suggests that we should not increase wages at all to alleviate inflation."
Risse said rent still had to be paid and basics still had to be bought. If people couldn't pay, they would skip meals, forgo heating during winter, and lose the stability of a safe place to call home, damaging the economy in more costly ways.
Treasurers needed to consider more than a narrow definition of economics.
---
Individual responses. Click to open:

Peter Martin, Visiting Fellow, Crawford School of Public Policy, Australian National University
This article is republished from The Conversation under a Creative Commons license. Read the original article.
Share this with your friends